The best experience ever. Prompt pick up and courteous. The most professional services you can find. Fort Lauderdale Number 1 Airport Shuttle Thank you.
This company provides exception great service, I travel a lot and I have never met such a profession driver with great personality. My family and I felt so comfortable around them … Read more
Great company great driver, clean ride very professional, would recommend to anyone to use in Fort Lauderdale.
Hired Luxurious Shuttle for New Years Eve, just now getting around to writing this review. Our driver GaWayne was great, he picked us up at my house and got us home safely. He was … Read more
I was very pleased with the cleanest the kindness and compassion thank you Luxury shuttle
This is a class act service. We needed a shuttle fast for 6 people and lots of baggage to go the the Fort Lauderdale cruise terminal. Terrific service!
I have used the Florida luxurious shuttle service and limo , they where very professional, the vehicle was clean and smell great and most of all they where on Time, I will definite… Read more
Very reliable Fort Lauderdale airport Shuttle,the security and comfort that one would b looking for this is what this company is about I have already recommend this service to fami… Read more
Service was prompt and very reliable, will recommend to all my friends who is coming to Fort Lauderdale and Miami for a vacation. …Thumbs up!!!
Everything about this pickup service was extremely professional, from emailing to confirm my registration, calling 24hrs before my initial pickup, and arriving 15mins before the sc… Read more
The Premier Fort Lauderdale Shuttle Service and Limousine Provider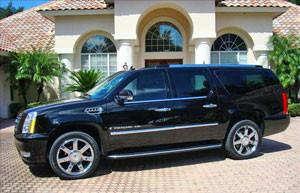 Traveling for business or pleasure and want to drive in style to and from the airport? Then Florida Luxurious Shuttle & Limo is perfect for you! As the premier Fort Lauderdale shuttle and brokering  service, Fort Lauderdale black car service we provide reliable and courteous transport in clean, private vehicles—whether you need a limousine, private airport shuttle, airport car service or a full-size party van. We'll take you to your destination so you can take care of business. We are a fully-licensed and insured ground transportation service that operates throughout the Miami, Fort Lauderdale and the Palm Beach area. We also serve as a major transport shuttle service between Miami Airport, Fort Lauderdale Airport as well as Port of Miami and Port Everglades (Fort Lauderdale Cruise Port).
Fort Lauderdale Luxurious Shuttle Service & Limo's on-time guarantee applies to all our airport shuttles, and we're often half the cost of a taxi. No need to meet us halfway, one of our spacious Fort Lauderdale  airport shuttles will pick you up right from your home, hotel or office, along with all of your luggage, and get your trip off to a great start. Why deal with traffic, road services, parking fees and the stress of driving yourself to the airport? Join the thousands of satisfied passengers who have saved time and money using Florida Luxurious Shuttle & Limo and skip all the headaches and high gas prices.
We also serve as a Fort Lauderdale shuttle service for local residents and businesses by covering a variety of occasions and events, including: school proms, weddings, birthdays, funerals, business trips, business conventions, hotel shuttle, Airport Shuttle, Taxi, Cruise Port Shuttle, taxi service and more.
Fort Lauderdale Shuttle Service
May 8, 2015